Performance Evaluation for Alaska's Schools (PEAKS) and Alaska Science Assessment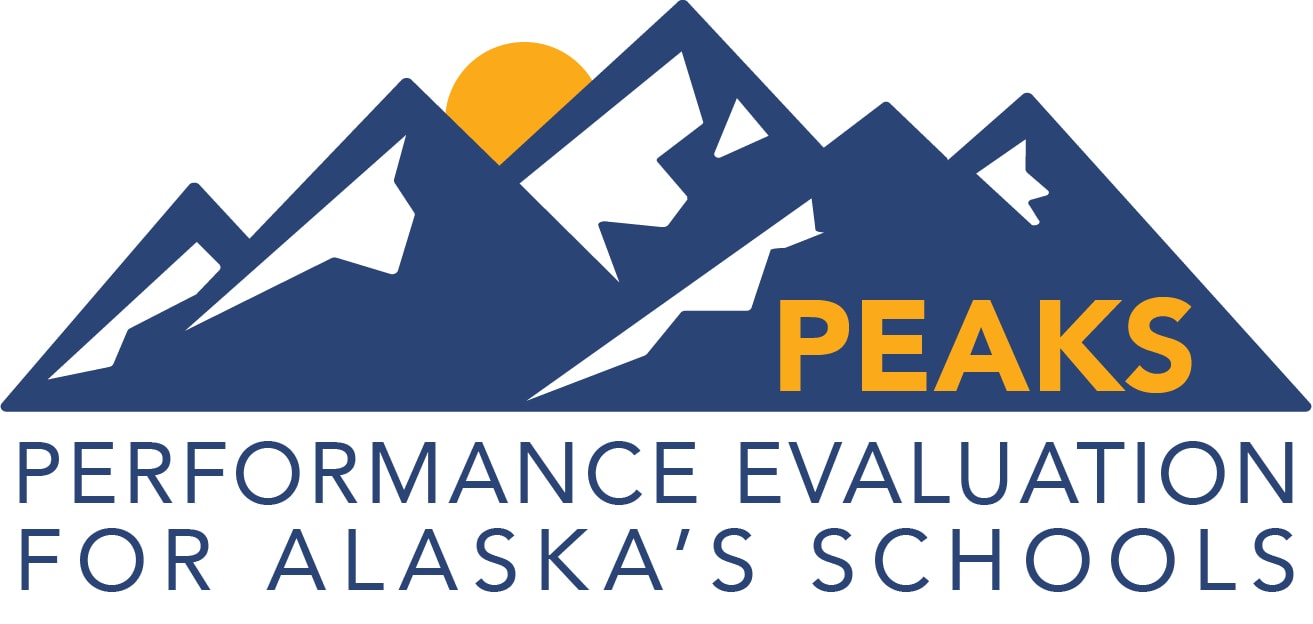 The Alaska English language arts (ELA) standards demonstrate the expectation that students' skills will build across grades in reading and analyzing a variety of complex texts, writing with clarity for different purposes, and presenting and evaluating ideas and evidence. The ELA standards are designed to help students develop a logical progression of fluency, analysis, and application, moving toward college and career readiness. The Alaska mathematics standards have the expectation that students' skills will grow across grades in mathematics content as well as mathematical practices. The mathematics standards are designed to help students develop a logical progression of mathematical fluency, conceptual understanding, and real world application.
The PEAKS assessments are administered to students in grades 3-9. The science assessment is administered to students in grades 4, 8, and 10.
Parent and Community Resources
Alaska Summative Assessments
---
Student Preparation
---
Student Preparation
Student preparation resources are available to help prepare students for the PEAKS and Alaska Science assessments. Student Tutorials and the Online Tools Training (OTT) will help students taking the computer-based assessments to become familiar with the test taking tools, item types, and format of the spring assessments. Paper-Based Item samplers will assistant students taking the paper-based assessments with the item types and format of the materials. All resources are available to students, educators, parents, and community members. DEED encourages everyone to utilize these tools to become familiar with the assessments.
An Educator Guide to Student Preparation and all resources are available on the Student Preparation webpage.
Assessment Design
The Alaska Department of Education & Early Development (DEED) licenses items from Data Recognition Corporation's (DRC) College- and Career- Ready (CCR) item bank for use on the ELA and mathematics assessment. An independent, third-party, alignment study was conducted in in August 2017 that showed a very strong alignment between the items used on the assessment to the Alaska ELA and Mathematics standards. The alignment study report is available upon request.
Alaska Science Assessment items were created for Alaska and reviewed by Alaska educators.
Annually, DRC writes a Technical Report that provides information and a data analysis that supports the validity and reliability of the summative assessments.
In April 2019, DRC will facilitate an Educator Review of items created specifically for Alaska use on the PEAKS assessment. Information will be available soon. DEED welcomes and strongly encourages Alaska Educators to apply to be part of the review.
Results
---
Parents
---
Educators
---
Achievement Level Descriptors (ALDs)
Text-Dependent Analysis (TDA) Resources
The English language arts (ELA) section of PEAKS presents students with a Text-Dependent Analysis (TDA) question. The TDA was included in the ELA assessment for the first time in spring 2018 to better align the assessment with the Alaska ELA standards adopted in 2012. Writing standard W-9 connects reading for evidence and analyzing the text with the ability to write logical arguments. The TDA provides students an opportunity to demonstrate they are able to integrate literacy skills and that reading and writing are not separate skills but work together.
Accomodations and Student Supports
Student supports are available for students taking the computer- and paper-based PEAKS and Alaska Science assessments. Universal tools are supports or preferences that are available to all students. Accommodations are practices and procedures that provide equitable access and are used regularly and with success during instruction and assessments. Accommodations must be made available to students with disabilities with an IEP or 504 plan, students with transitory impairments, and EL students, as documented in student plans. Additional information can be found on the Accommodations webpage.
Test Administration
Test Administration resources are updated annually.
Manuals, Guides, and Policies
---
Assessment Forms
---
eDIRECT
---
Reference Sheets
---
Resources for DTC's
Smartsheet Login - To access DTC Corner Smartsheet.
Contact Rachel if you need access.
Technology
Alaska partners with Data Recognition Corporation (DRC) to administer the Performance Evaluation for Alaska's Schools, or PEAKS, and the Alaska Science Assessment. DRC has created an Alaska-specific phone number and email address to assist districts in the use of eDIRECT, INSIGHT, and implementing technology.
DRC Customer Service
Phone – 1-866-339-6390
Email – akhelpdesk@datarecognitioncorp.com
Technology resources for districts such as the Technology User Guide (TUG) and System Requirements are available under the Documents tab on eDIRECT.
Contact Us
PEAKS Assessment Coordinator
Kari Quinto: (907) 465-8436