The Department of Education and Early Development (DEED), in partnership with the Department of Health and Social Services (DHSS), developed guidance to support planning and strategies for reopening schools. 'Alaska Smart Start 2020' framework for K-12 schools provides a tiered approach based on COVID-19 pandemic risk levels per community. School districts and communities will work together to develop clear, actionable steps that are necessary for teaching and learning to continue throughout the 2020-2021 school year. These health parameters provide a basis for plans that are specific, actionable, and broad enough to be adaptable.
Alaska Smart Start 2020 is built upon the guidance and recommendations of health officials and collaborative conversations with education stakeholders; it is aligned to the reopening guidelines that have been provided by our state and federal leaders; and it is designed to help districts prioritize the health and safety of students and teachers as they deliver instruction for the 2020-2021 school year.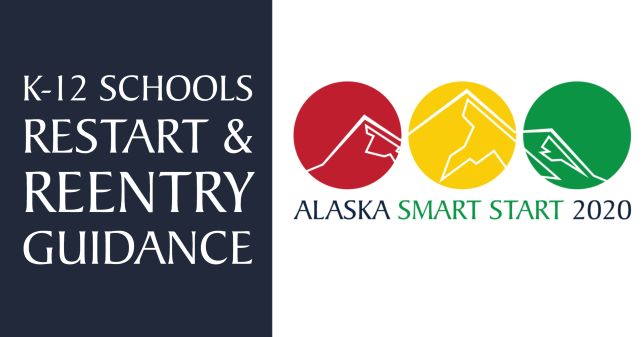 Alaska Smart Start 2020 Framework Guidance
Alaska Smart Start 2020 School District Restart Plans
Alaska Smart Start 2020 Summer Virtual Summit
To continue the creative discourse and scenario planning achieved through the Alaska Smart Start 2020 webinar series held this spring, DEED, with the support of the Region 16 Comprehensive Center, is launching the Alaska Smart Start Summer Virtual Summit 2020 to be held throughout the month of August. The Virtual Summit invites teachers, parents, district staff, tribal leaders, community members, and education stakeholders to interact daily with expert guest speakers, network with a statewide community of learners, and collectively plan for the conditions, continuity, and capacities for learning in the upcoming school year.
To learn more about the Alaska Smart Start Summer Virtual Summit 2020 and to register visit aklearns.org/smartwebinar/.
Professional Development Opportunities
DEED and DHSS are hosting two COVID-specific information sessions relative to schools.
School Health ECHO Series: Join DEED and DHSS for a series of school health information sessions intended for superintendents, principals, and school health leaders. Sessions will focus on health considerations, answering questions from the field, and establishing a safe school environment during the COVID-19 pandemic. Every Monday from 3:00- 4:00 pm.
Ask a question (please submit questions in advance to be addressed in the sessions)
Classroom Teacher ECHO Series: this ECHO series will be transitioning and relaunching under the Alaska Education Network - Project ECHO. We look forward to continuing discussions with you as we work together to build resiliency through education in the 2020-2021 school year. During this transition period we encourage you to attend the School Health ECHO series on Monday afternoons to keep apprised of the latest guidance for schools and be part of back-to-school conversations with the medical team at DHSS.
Do you have ideas for future ECHO sessions designed specifically for classroom teachers? Any topics you would like addressed? Share them here.
School Restart & Reentry Resources:
Questions or Concerns?
Contact us at AKsmartstart2020@alaska.gov