The Department of Education and Early Development (DEED), in partnership with the Department of Health and Social Services (DHSS), developed guidance to support planning and strategies for reopening schools. 'Alaska Smart Start 2020' framework for K-12 schools provides a tiered approach based on COVID-19 pandemic risk levels per community. School districts and communities will work together to develop clear, actionable steps that are necessary for teaching and learning to continue throughout the 2020-2021 school year. These health parameters provide a basis for plans that are specific, actionable, and broad enough to be adaptable.
Alaska Smart Start 2020 is built upon the guidance and recommendations of health officials and collaborative conversations with education stakeholders; it is aligned to the reopening guidelines that have been provided by our state and federal leaders; and it is designed to help districts prioritize the health and safety of students and teachers as they deliver instruction for the 2020-2021 school year.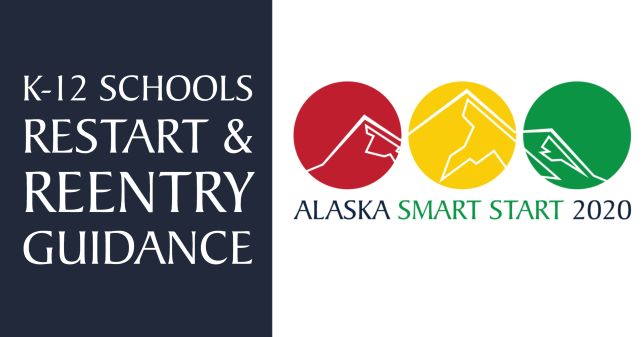 Alaska Smart Start 2020 Framework Guidance
NEW - Alaska Smart Start 2020 Toolkit
Alaska Smart Start 2020 School District Restart Plans
Learn More
DEED and DHSS are hosting two COVID-specific information sessions relative to schools.
School Health ECHO Series: Join DEED and DHSS for a series of school health information sessions intended for superintendents, principals, and school health leaders. Sessions will focus on health considerations, answering questions from the field, and establishing a safe school environment during the COVID-19 pandemic. Every Monday from 3:00- 4:00 pm.
Caregiver COVID Schooling ECHO Series: Are you a parent-educator during COVID? Do you need ideas to help your child focus for online classes? Have you decided to homeschool your child, but need ideas on how to balance it all? Join the Caregiver COVID Schooling ECHO to connect with others facing similar challenges. Learn from others and share what works for you. Every Wednesday at 10:30- 11:30 am.
Classroom Teacher ECHO Series: this ECHO series will be transitioning and relaunching under the Alaska Education Network - Project ECHO. We look forward to continuing discussions with you as we work together to build resiliency through education in the 2020-2021 school year. During this transition period we encourage you to attend the School Health ECHO series on Monday afternoons to keep apprised of the latest guidance for schools and be part of back-to-school conversations with the medical team at DHSS.
School Restart & Reentry Resources:
For Parents and Families
The Department of Health and Social Services made a webpage specific for parents and caregivers as they navigate the new school year. Whether children are homeschooling, remote learning, or in a classroom with other students, there are many ways to help keep kids safe from COVID-19 while learning.
CDC's Back to School Planning: Checklists to Guide Parents, Guardians, and Caregivers
Questions or Concerns?
Contact us at AKsmartstart2020@alaska.gov or call/text 907-744-5567. Calls will be returned twice a day.