Lorrie Heagy - 2011 Teacher of the Year
Lorrie Heagy Named Alaska Teacher of the Year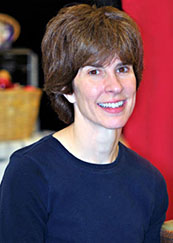 The Alaska Department of Education & Early Development has named Lorrie Heagy, an elementary music teacher and librarian in Juneau, the Alaska Teacher of the Year for 2011. The announcement was made November 14 at the annual conference of the Association of Alaska School Boards in Anchorage.
"Ms. Heagy represents the finest in Alaska's teaching profession, but is not alone," said Alaska Education Commissioner Larry LeDoux. "Many of Alaska's teachers bring out the best in our children by giving the best of themselves. This award is an opportunity for Alaskans to express gratitude to teachers."
Since Heagy moved to Glacier Valley Elementary, its library, music and art programs have seen phenomenal growth, said Juneau School District Assistant Superintendent Laury Scandling in a letter of recommendation. "Students get up early for 7 a.m. band practice and stay after school for activities that did not exist six years ago. Classroom teachers integrate art and music into their language arts, science, and math programs," Scandling said.
###