Jackie Lee Johnson - 2010 Teacher of the Year
Jackie Lee Johnson Named Alaska Teacher of the Year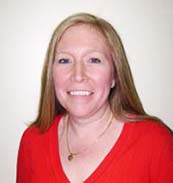 Jackie Lee Johnson, a fifth-grade teacher at Pioneer Peak Elementary in Palmer, has been named Alaska Teacher of the Year for 2010. Larry LeDoux, Alaska Commissioner of Education & Early Development, presented the award to Johnson on Sunday in Anchorage at the annual conference of the Association of Alaska School Boards. Johnson's term begins January 1, 2010.
"Ms. Johnson represents the wonderful teachers in Alaska who strive to meet the needs of all students and who bring out the best in our children," LeDoux said. "As Ms. Johnson says, 'Teaching is a lifestyle. It is always a part of me.' This award reminds us of the debt of gratitude we owe to inspiring teachers."
Commissioner LeDoux also announced that Candace Mudge, a fifth-grade music teacher in the Denali Borough School District, is the Alternate Alaska Teacher of the Year for 2010. Mudge will serve as Alaska Teacher of the Year if Johnson is named National Teacher of the Year.
Johnson has taught for 14 years, including as a music specialist at two schools in the Matanuska-Susitna Borough School District, a math specialist in the Anchorage School District, and at schools in Las Vegas, Nev., and Tampa, Fla. She holds a bachelor's degree in zoology, a field in which she worked before becoming a teacher, and a master's degree in elementary education.
Johnson said her ability to communicate and interact with students and families allows her to understand her students' needs and help them make exceptional educational gains. Most of her students earn advanced scores in reading, writing and math in the state's standards-based assessments.
###