Outstanding educators who continue to learn are essential to the fostering of student growth, the improvement of schools, and the enhancement of the education profession.
2019 Alaska Milken Educator – Rebecca Missler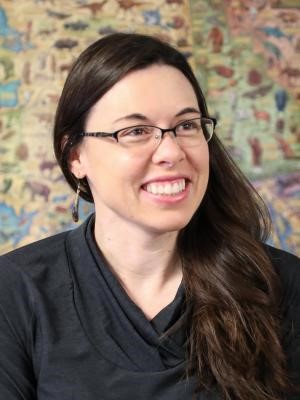 Rebecca Missler, a science teacher at Alaska's North Pole High School (NPHS), works hard to make learning hands-on and relevant for her students. Her paleontology class has excavated real dinosaur bones from Alaska's North Slope, visited the dinosaur exhibit at the museum, and visited the permafrost tunnel to see mammoth bones and tusks. In geology, Missler has borrowed moon rocks and meteorites from NASA, grew their own geodes, and used JamaSeis to track real-time earthquakes in Alaska, and visited the Alaska Earthquake Center. In Chemistry, they do labs every week, most recently creating foot-long sugar snakes, an inquiry lab as part of types of reactions. In earth science, they've created fire tornadoes and sampled the school's lake using water quality test kits. It is a little wonder that her students actively participate in classroom discussions and activities, working hard and supporting each other thanks to the positive atmosphere Missler creates in her classroom.
Missler works tirelessly to help others with whatever needs to be done. When the district selected a new learning management system, she requested extra training so she could help colleagues adapt to the new platform. Missler served on the mentoring committee for new teachers and played a large role in the district's transition to the Next Generation Science Standards and Alaska's State Science Standards. Her work on the district curriculum review committee led to two new classes at NPHS: Paleontology and Geology, both of which Missler now teaches. She has taken a deep dive into personalized learning, a current initiative in the district, adapting her lessons to students' particular needs and incorporating inquiry into her lessons more and more. Math often gets in the way of success in chemistry, so Missler starts the year with a strong focus on math and conversions, scaffolding and building skills where students show deficits.
Missler helped start the NPHS International Club, chaperoning trips to Costa Rica and Belize in an effort to expose students to a wide variety of cultures and experiences and co-coached the NPHS Academic Decathlon team. In the summers, she has co-taught the Alaska Summer Research Academy (ASRA) forensics module, and the Science Teacher Education Program (STEP) through the University of Alaska Fairbanks (UAF). Trained as a geologist, she tried out many different careers prior to teaching; including working for an engineering company, the AK Dept. of Conservation, and an oil field service company and she shares these experiences with her students. Missler is part of the Partners in Science Program through the Murdock Trust where science teachers are partnered with a scientist during the summer. As part of her work with Partners in Science, she has spent the past two summers working under the direction of paleontologist Dr Patrick Druckenmiller at the University of Alaska Museum of the North and looking for fossils in Denali National Park. She has presented both a poster and a talk on her work with Dinosaurs in Denali at the Partners in Science yearly conferences.
Missler earned a B.S. in Geology from Lake Superior State University in Michigan in 2004 and a Master's in Secondary Education from the University of Alaska Fairbanks in 2016. She is currently working towards becoming Nationally Board Certified.
Contact Us
Recent Alaska Milken Educators
All Alaska Milken Educators Profiles
Commissioner Dr. Michael Johnson himself is a Milken Educator. He received his award in 2008 as the Principal of Glennallen Elementary School in the Copper River School District.
About the Milken Educator Award
The Milken Family Foundation, in cooperation with the Alaska Department of Education & Early Development, sponsors the Milken Educator Awards program. Alaska has participated in the program since 1990. Since then more than 65 Alaska teachers and principals have received the honor. In addition, 44 other states also team up with the Milken Family Foundation to honor educators annually. The program recognizes both elementary and secondary educators, but annually alternates the award program between both groups. The program's goal is to elevate the education profession by increasing public recognition and support of outstanding educators.
Following guidelines established by the Milken Foundation, the Department of Education & Early Development sets up a process to identify and evaluate educators for the award. The department then appoints a blue ribbon review team to make final recommendations. The Milken organization makes the final selections based on the team's recommendations. The program includes neither an application nor a nomination procedure. Predetermined criteria for the award include expert pedagogy; distinguished achievement in developing innovative curricula; outstanding ability to instill students with sound values; and commitment to professional development and excellence.