Migrant Education Program, Title I-C
Migrant Education Program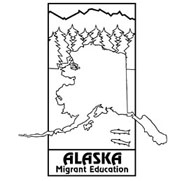 The goal of the Migrant Education Program is to ensure that all migrant students reach challenging academic standards and graduate with a high school diploma (or complete a GED) that prepares them for responsible citizenship, further learning, and productive employment.
Section 1306(b) of the Elementary and Secondary Education Act provides supplemental funds to be used to meet the identified needs of migratory children that result from their migratory lifestyle, and to permit these children to participate effectively in school.
Alaska's Migrant Education Program is guided by the statewide Comprehensive Needs Assessment (CNA) and the state Service Delivery Plan (SDP) that identifies the measurable program objectives and the instructional strategies designed to meet the needs identified in the CNA.
Contact Us
Migrant Education Program Manager
Data Specialist
Identification & Recruitment Specialist
Eligibility Specialist
Important Dates
News
No new information at the moment
Migrant Education Eligibility
Migratory Child
The term ''migratory child'' means a child or youth who made a qualifying move in the preceding 36 months —
as a migratory agricultural worker or a migratory fisher; or
with, or to join, a parent or spouse who is a migratory agricultural worker or a migratory fisher.
Migratory Agricultural Worker and Migratory Fisher
The terms "migratory agricultural worker" and "migratory fisher" mean an individual who made a qualifying move in the preceding 36 months and, after doing so, engaged in new temporary or seasonal employment or personal subsistence in agriculture or fishing soon after the move. If the individual did not engage in such new employment soon after the move, the individual must have actively sought such new employment, and have a recent history of moves for temporary or seasonal employment in agriculture or fishing.
Qualifying Move
The term "qualifying move" means a move due to economic necessity —
from one residence to another residence; and
from one school district to another school district, except —

in the case of a State that is comprised of a single school district, wherein a qualifying move is from one administrative area to another within such district; or
in the case of a school district of more than 15,000 square miles, wherein a qualifying move is a distance of 20 miles or more to a temporary residence.
Resources
General
Recruiters & Records Managers
Migrant Coordinators
Legislation
Guiding Documents
The Alaska Migrant Education Program Comprehensive Needs Assessment (CNA) was updated as of December 2012. Needs were identified in the following four areas: academic support; high school graduation; school readiness; and support services.
The Alaska Migrant Education Program Service Delivery Plan was updated as of May 2013. This plan outlines strategies for meeting the needs of migrant students identified in the Comprehensive Needs Assessment (CNA). It also sets Measurable Program Outcomes (MPOs) on which the migrant education program will be evaluated.
Comprehensive Needs Assessment (pdf) Service Delivery Plan (pdf)
Parent Advisory Council
The Alaska Migrant Education State Parent Advisory Council meets annually and is comprised of members from six (6) regions in Alaska. The council helps the Department develop, implement and review plans for the state migrant education programs. Regional representatives are nominated on a three-year basis. View the current council membership list.
Literacy Grant
The Alaska Migrant Education Literacy Grant is an annual supplemental migrant education grant awarded to districts who choose to participate. The goal of this supplemental grant is to support districts in improving literacy with migrant education students and their families. Family literacy nights are encouraged, as well as supporting literacy efforts of migrant children who are not yet in school. Participating districts complete an application to receive funds and a final report at the conclusion of the grant period.