Migrant Education Program, Title I-C
Migrant Education Program
Section 1306(b) of the Elementary and Secondary Education Act provides supplemental funds to be used to meet the identified needs of migratory children that result from their migratory lifestyle, and to permit these children to participate effectively in school. Alaska's Migrant Education Program is guided by the statewide Comprehensive Needs Assessment (CNA) and the state Service Delivery Plan (SDP) that identifies the measurable program objectives and the instructional strategies designed to meet the needs identified in the CNA. The term "migratory child" for Alaska means a child under the age of 20 (22 with an IEP) who has moved due to an economic necessity on their own, with or to join a parent/guardian or spouse, across school district boundaries (or more than 20 miles in a school district of more than 15,000 square miles) within the last 36 months to obtain or seek work that is seasonal or temporary in a fishing, logging or agricultural activity.
Alaska Migrant Education Program Resources
General Resources
Resources for Recruiters & Records Managers
Resources for Migrant Coordinators
News
Would you like to receive our quarterly newsletter? Email Amanda Mosher amanda.mosher@alaska.gov to be added to the list!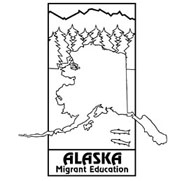 Guiding Documents
The Alaska Migrant Education Program Comprehensive Needs Assessment (CNA) was updated as of December 2012. Needs were identified in the following four areas:
Academic support
High school graduation
School readiness
Support services
The Alaska Migrant Education Program Service Delivery Plan was updated as of May 2013. This plan outlines strategies for meeting the needs of migrant students identified in the Comprehensive Needs Assessment (CNA). It also sets Measurable Program Outcomes (MPOs) on which the migrant education program will be evaluated.