James Harris Named Alaska Teacher of the Year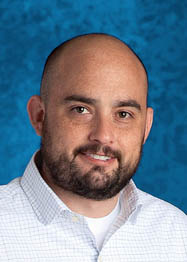 James Harris, a 12-year professional, has taught English at Soldotna High School for seven years. A published writer, editor, and college educator, he chairs the English department and professional development at his school, and coaches youth hockey.
Mr. Harris said he overcame a tumultuous childhood with the help of several teachers who could see the goodness and potential in him. He says, "Through literature I hope to help my students empathize with the human story, open themselves up to the joys, sufferings, motivations, disappointments, and triumphs of others, and thus achieve a kinder and more complex understanding of themselves."
Once students graduate, they start the stories of their own lives. Mr. Harris said he uses every skill, experience, talent, and tool at his command to give his students what they need to face their life choices armed with literacy, empathy, and a deeper sense of what they can contribute to our larger human community.