What is the Fourth R?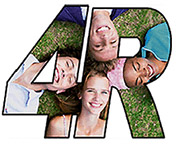 The Fourth R is a comprehensive school-based program designed to include students, teachers, parents, and the community in reducing violence and many of today's risk behaviors. The Fourth R (R = Relationships) focuses on healthy relationships and decision-making relevant to adolescents. It was developed in Canada by the Centre for Addiction and Mental Health, Centre for Prevention Science.
The core program is based on 21-lessons designed to be implemented in Health and Physical Education in grades 7-9. Important topics include bullying, personal relationships, peer and dating violence, substance abuse and high-risk behaviors.
The curriculum binders contain teacher friendly lessons, including objectives, learning expectations, teaching and learning activities, and additional DVDs to assist with skill development in the classrooms. Additional resources are also available such as the Youth Relationships Program (YRP)-After School Program and the Peer Mentoring Program.
The Fourth R
Emphasizes skill development through role plays and practice
Promotes healthy relationships and draws the links among relationships and risk behaviors
Provides interactive opportunities to process the issues with peers and the teacher, as well as opportunities to examine individual values, beliefs, boundaries and limits.
Is an evidence-based program.
Contact Us
The Fourth R Aligns with State and National Standards
The Fourth R provides lessons that meet the Alaska Skills for a Healthy Life content standards, developed by the State of Alaska Department of Education & Early Development
The Fourth R aligns with the performance indicators of all eight of the National Health Education Standards for grades 9-12.
The Fourth R in Alaska
The Department of Education & Early Development, along with partners provide training and materials to interested school districts.