How do we do it? (Implementation of Tiers)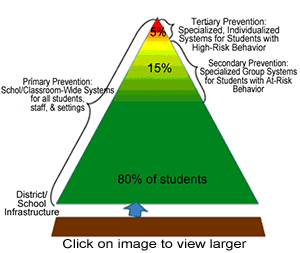 This section assists schools in understanding the development of the SW-PBS framework. SW-PBS is a structured general education social/emotional framework (not a curriculum) designed to create a common language and focus among staff and students. This common language creates an environment that promotes consistency, prevents student behaviors from getting worse, is predictable for students, and is proactive.
For the purpose of "how do we do it" school districts can develop their internal capacity for SW-PBS implementation through ongoing professional development training. This training/framework development can be provided by an external source (external coach) or by school staff with an expertise in SW-PBS.
Tier 1 "Primary Prevention/Universal Supports"
Training (2-day)
Sample Outline - word
Training PowerPoints
Work Session Activities
Paraprofessional Training
Coaching Resources - 8 steps--Examples
Behavior Expectations & Matrixes
Lesson Plans
Reward Systems

Procedures For Discouraging Rule Violations (8)
Tier 2 "Secondary Prevention/ Supports" /Tier 3 "Tertiary Prevention/ Individual Supports"
Secondary preventions/ targeted supports are a scaled-up versions of Tier 1 universal supports. Tier 2 is designed to provide early intervention to student's identified thru data based decision-making (from Tier 1) who need more support than what is offered thru a Tier 1 intervention. These particular supports are designed to meet the needs of about 10-15% of the students who have been identified for a targeted intervention or there is a concern they are at risk of developing mental health issues. These supports can include, programs such as Check In Check Out, anger managements groups, social skills groups, relationship building, etc. On-going data-based decision-making and monitoring allow for on-going intervention planning.
Tertiary Prevention/individual supports meet the needs of about 1-5% of the students in the school. These students have the most severe, chronic, and pervasive behavioral issues that may, or may not, meet diagnostic criteria for special education. These interventions are developed based on individual student need through a specialized functional behavioral assessment and behavior intervention plan. On-going data-based decision-making and monitoring allow for on-going intervention planning.
All interventions should be implemented through the use of a comprehensive developmental approach that is collaborative, culturally sensitive and geared towards skill development and/or increasing protective factors for students and their families.
Are you Ready to Implement Tier 2/3
Coaching Resources and Compilations of Evidence Based Practices
Counselors Role in Tier 2/3 (under development)
Student Training/tracking (under development)
Check In /Check Out